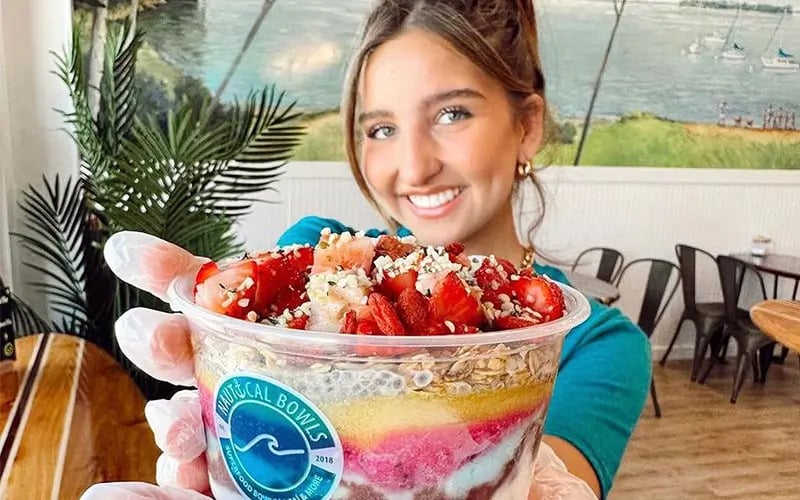 CLIENT:
Nautical Bowls
Nautical Bowls is a leading brand in the health food industry. Celebrated for their delicious and nutritious acai bowls, smoothies, and other healthy food options, the brand has experienced rapid growth and expansion throughout the past few years. In order to optimize operations, reduce costs, and maintain consistent brand standards across all franchise locations, Nautical Bowls sought out a partnership with BIG to provide comprehensive solutions.
CHALLENGE:
Establish a system that empowered Nautical Bowls franchisees to efficiently order everything needed to launch and maintain a new store, while also ensuring products were of high quality, cost effective and consistent with brand standards.
SOLUTION:
To meet this challenge, BIG created an online resource center available to all Nautical Bowls franchisees. A 24-hr service featuring a combination of in-stock and on-demand inventory. This single, convenient platform enabled franchisees to easily order everything from uniforms and branded merchandise to interior/exterior signage and digital menu boards. It also ensured seamless brand compliance, quality, and competitive pricing, making it easy for franchisees to obtain everything necessary to launch and maintain a new store.
BIG provided accurate forecasting reports and inventory management solutions to help save money and increase efficiencies.
RESULT:
Thanks to BIG's comprehensive solutions, Nautical Bowls can focus on their business and rapidly expand across the country with confidence.